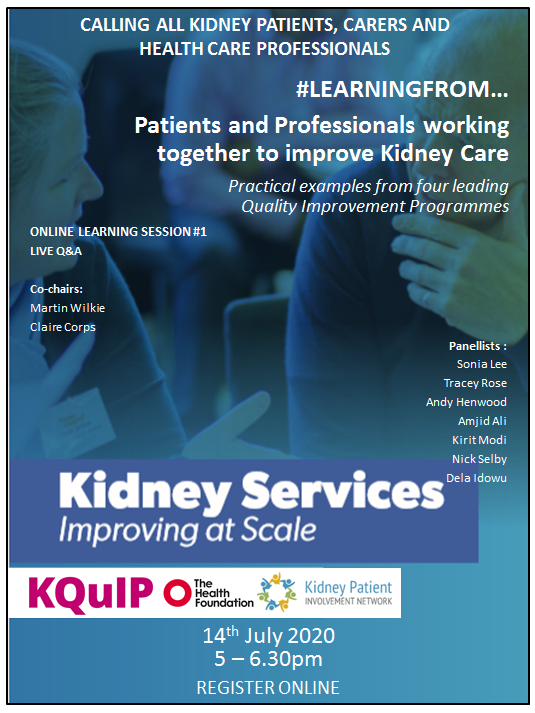 Introducing the panel:
Martin Wilkie
Martin is a consultant renal physician with a particular interest in supporting individuals to take a role in their own dialysis care. Martin lead the Shared Haemodialysis Care programme, co-authored the recent Kidney Services Improving at Scale report, is Editor in Chief of Peritoneal Dialysis International, and a strategic lead for Yorkshire and Humber NIHR Clinical Research Network, leading a project on mechanisms to enable participation in COVID research for people from BAME communities.
Claire Corps
Dr Claire Corps had a renal transplant as a child in 1980 following two years of haemodialysis, and a liver transplant in her twenties in 1997, both of which still work extremely well. She now works as a Senior Research Scientist working in the field of Organ Preservation for Transplantation at the University of Leeds and St. James's University Teaching Hospital, Leeds, where both her transplants took place.
She has worked on patient and public involvement on many projects both regionally (West Riding KPA, NIHR Leeds MIC) and nationally (Renal Association Patient Council, UK Renal Trials Network, KPIN, KQuIP) as she is in a unique position of seeing renal disease and transplantation from several sides. She co-chaired the Measurement Workstream in the TP-CKD project and has continued to help evolve the Kidney Patient Reported Experience Measure ever since.
Amjid Ali
Amjid was diagnosed with Chronic Kidney Failure in Oct 1987 at the age of 20 and spent 23 years on home dialysis before receiving a living related kidney donation in May 2011.
Amjid is a retired Senior Manager, HSBC. He is now Partner and Project Lead, 'Transplantation in Islam' initiative for NHS Blood and Transplant, and BAME Engagement & Inclusion for Kidney Care UK. His perseverance and hard work over the course of the last 5 years has led to the development of an updated religious edict (Fatwa) on 'Transplantation and Organ Donation in Islam'. Amjid also is Chair, Strategic Independent Advisory Group for Avon & Somerset Constabulary.
Andy Henwood
As a transplanted Haemodialysis patient, Andy has been a patient representative and now considers himself a patient advocate. Andy was the Patient Lead on the Shared Haemodialysis Care programme and a contributor to the Kidney Services Improving at Scale report. Andy is also the co-founder and Co-Chair of the newly created Kidney Patients Involvement Network (KPIN). Andy believes that patients, carers and families have a large role to play in the development and delivery of kidney services.
Sonia Lee
Working out of the Sheffield Teaching Hospital NHS Foundation Trust Sonia Lee was the programme manager for the Health foundation funded Shared Haemodialysis Care (SHAREHD) Scaling Up programme having previously, and for the majority of her career, managed large scale software developments in the private sector. She led and co-authored the Kidney Services Improving at Scale report and is a member of the Health Foundation Q community.
Tracey Rose
Tracey has been actively involved in the kidney community for the past 25 years since her eldest daughter was diagnosed with End Stage Kidney Disease as a teenager. Since then both her daughters have undergone three kidney transplants for a still undiagnosed kidney condition although her son is not affected. She is a living organ donor with personal experience of all aspects and impacts of kidney disease. Tracey has been Trustee of Kidney Research UK, patient member of NHS Renal Clinical Reference Group, and taken part in several Quality Improvement and research projects.
Nick Selby
Prof. Selby is a clinical academic with primary interests in Acute Kidney Injury (AKI), Magnetic Resonance Imaging (MRI) of the kidney and the haemodynamic consequences of dialysis. He led the development of one of the first e-alert systems for AKI in the UK and is Clinical Investigator on several investigator-instigated studies in these areas including the Tackling AKI study and the AFiRM study. Since 2011 Dr Selby has been awarded peer-reviewed grant funding from NIHR, MRC, the Health Foundation, Kidney Research UK and British Renal Society. He has published over 80 peer-reviewed articles. Dr Selby has several national and international AKI roles, including immediate past chair of the AKI Clinical Study Group that sits within the UK Kidney Research Consortium, co-chair of the UK Renal Imaging Network, programme board of the NHS England 'Think Kidneys' programme, the American Society of Nephrology's AKI!Now programme and the ERA-EDTA Nephrology and Public Policy Committee for AKI.
Kirit Modi
Kirit is a kidney transplant recipient. He has been involved in promoting organ donation and supporting kidney patients for many years, in a voluntary capacity.  He is President of the National Kidney Federation (NKF).  He is a founding member and Hon President of NBTA (National BAME Transplant Alliance). He is Chair of the Lister Area Kidney Patients Association (LAKPA). He is Chair of the Jain and Hindu Steering Group on organ donation (JHOD). Kirit has frequently spoken to the All Party Parliamentary Kidney Group and written two Manifestos for Change; one on BAME issues and one on living kidney donation. He is a member of the project board for two NHSBT programmes; the Community Investment Scheme and the Living Transplant Initiative.   Kirit received a Points of Light award from the Prime Minister for his work on organ donation in 2018.
Dela Idowu
Dela Idowu is the founder of Gift of Living Donation, an organisation that works to raise  awareness of living donation in the Black Community. She is the author of More Than a Match  a book she wrote after coming forward as a living kidney donor for a family member. She is also the writer and producer of We Are Family, a living donation educational film. Have a good day.