[Home dialysis] enabled me to carry on with my A level's, do dialysis at home, socialise with friends and family, and meant minimal time spent at hospital or in the car travelling to and from hospital. It even allowed me to go away for weekends or stay at friends' houses, allowing me to have those normal teenage years…

Home Haemodialysis patient, UK
Personal experiences

In order to make our service sustainable for the future, we must listen to our patients, invest in what will enable them to dialyse at home, and have the infrastructure to support the patients once they are there…

Consultant Nephrologist, UK
DAYLife is the KQuIP improvement project that launched across the Midlands during 2019 with the aim of improving the quality and uptake of renal replacement therapy at home. We hope other regions will join this work over the next 18 months, to ensure more people are given the opportunity to undertake dialysis at home.
Our project
The DAYLife project driver diagram
Our project aim is to improve the quality and uptake of home dialysis.
Read more about driver diagrams and how they are used in improvement projects on the NHS Improvement website here.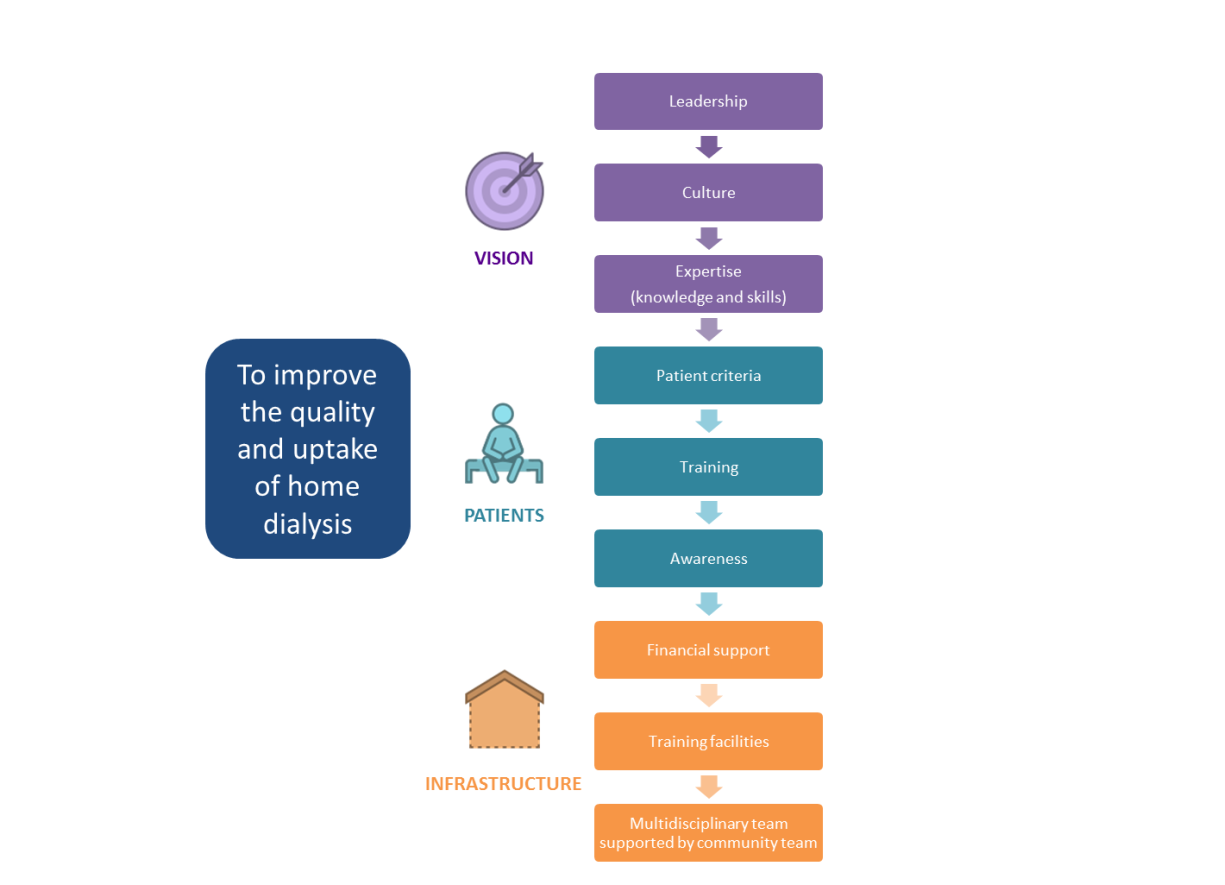 Who is the project run by, and who is it for?
The DAYLife project is run by KQuIP, in partnership with Kidney Care UK, Baxter and NxStage.

Our partnership is underpinned by a patient focus, and all project work is carried out for the benefit of patients.
The project supports multi-professional teams to learn and use quality improvement skills and leadership in order to work towards our shared aim of improving the quality and uptake of home dialysis.
Why DAYLife?
At the moment there is wide variation in home dialysis rates across the country, unexplained by the demographic distribution of the local population. At present, only a handful of renal centres have more than 30% of patients dialysing at home. In 2017, the UK Renal Registry reported that 4.5% of dialysis patients undertook home haemodialysis and 12.5% peritoneal dialysis.
Despite national professional guidance and patient groups stating more people wished to dialyse at home there has been little consistent progress in the last 10 years. For example, evidence shows that home dialysis can lead to:
Significantly improved quality of life for the patient – less time and resources spent in or travelling to and from hospital, and fewer lost working days
Improved medical outcomes, for example reduced hospitalisation rates, improved recovery times, improved overall survival rates and reduced incidence of depression
Improved knowledge, skills and confidence for the person living with and managing their long term condition
These benefits are endorsed by NICE, and supported through the Home Dialysis Manifesto and the Kidney Health: Delivering Excellence report.
We want to develop leadership and a culture in renal units which makes home dialysis the first option considered for dialysis.
How does the project work?
The project is run using the KQuIP framework, incorporating quality improvement and leadership training alongside regional collaboration and project implementation.
The DAYlife project is implemented using a three-step approach
Step 1: Research and discovery
Exploring what is working well on home therapy (HT) usage by centre and by region and why
Analysing whether the same solutions can be applicable to other centres or regions
Comparing contexts and looking at what process and outcome measurements can be used to monitor whether changes are resulting in the desired improvement
Step 2: Ideas
Creating a list of possible solutions and their predicted outcomes
Presenting and addressing these at a regional event
Compiling a short-list of interventions/solutions/ideas that will be tested in the centres or regions
Step 3: Testing
Step 2 should have created a menu of ideas for centres to agree to take away and try
The project group will then plan the testing of these solutions/ ideas monitoring their success using agreed metrics.
How do we measure improvement?
Clinical colleagues are often more familiar with measurement for research on a large scale with a fixed hypothesis. Health service managers and those in more strategic roles may be more familiar with measurement for judgement as a way of understanding a level of performance.
Measuring for improvement is different.
The concept of measuring for improvement means that there needs to be willingness to frequently change the interventions (as you learn more with each test) and an acceptance of 'just enough' data, working with data and information that is 'good enough' rather than perfect. Measurement for improvement does not seek to prove or disprove whether clinical interventions work – it seeks to answer the question "how do we make it work here?".
Read more about measurement for improvement on the NHS Improvement website here.
DAYLife measures
Quality improvement teams are encouraged to collect measurement for improvement depending on the change ideas being tested locally. Measurement covers outcome measures, process measures, balancing measures as well as patient reported outcomes.
Participating kidney units submit a simple set of core measures monthly to the national project partnership: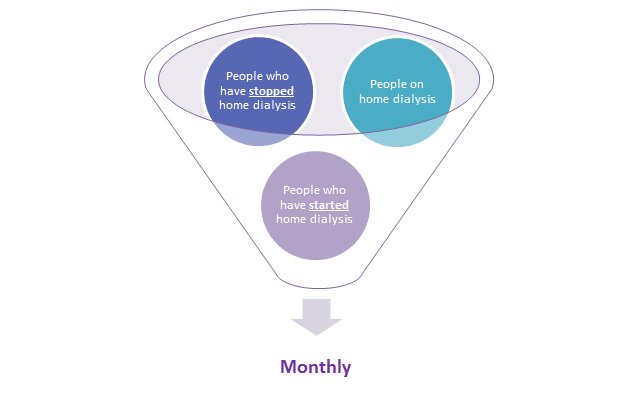 ---
Useful reading
Learn about QI
Current uptake of home dialysis
Best practice
Research
---
Project activity
---
Are you are interested in getting involved?