Think Kidneys award winning awareness raising campaignLearn More
Acute Kidney Injury

Improving the care of people at risk of, or with, acute kidney injury. This website and the resources are maintained and updated by the UK Renal Registry
SWIPE THE FACTS
Think Kidneys Review and Evaluation Report published
The NHS Think Kidneys AKI Programme Review and Evaluation report has been produced to mark the success of the Think Kidneys programme. At an event to share the evaluation and celebrate the programme's success held on 23 February 2017 Dr Mike Durkin, NHS National Director of Patient Safety, told delegates
The Think Kidneys programme has been successful in raising awareness of this costly condition and getting to grips with how data can drive improvement. It is important that we take time to evaluate our work so I am very pleased to see this review, which brings together all the outputs from the programme. The NHS is the first national healthcare organisation in the world to attempt to tackle AKI with a system-wide approach, and this programme clearly shows the benefits of working across all sectors, including social care settings where many of our most vulnerable patients reside. The NHS now needs to grab the lessons learned from this excellent work and share it relentlessly.
Over the last three years Think Kidneys has developed a wide range of guidance and information for people working in all healthcare sectors to help with the prevention, detection, management and treatment of AKI. Whilst this phase of the work has now concluded, Think Kidneys and the UK Renal Registry will continue to develop resources on the website, lead improvements in care and report on the impact of AKI across England.
The report can be accessed by clicking NHS Think Kidneys AKI Programme Review and Evaluation
Why we need to Think Kidneys and measure improvement
View Video
Kidneys are important to our wellbeing, looking after our bodies through the production of urine to get rid of excess water and toxins.
Acute kidney injury is a sudden and recent reduction in a person's kidney function. It is not caused as a result of a physical blow to the body.
Think Kidneys – tackling AKI, reducing avoidable harm and death for people with acute kidney injury, and improving care for patients whether in hospital or at home.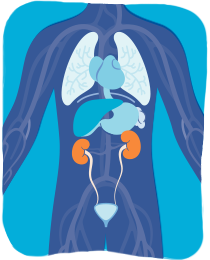 Understanding the implementation of sick day guidance to prevent AKI: The Salford experience

This case study summarises the findings from the implementation and evaluation of the Sick Day Guidance project undertaken in NHS Salford Clinical Commissioning Group (CCG)....

How Manchester's Acute Kidney Injury Team (MAKIT) is Driving Improvement

Central Manchester University Hospitals NHS Foundation Trust (CMFT), one of the leading tertiary care centres in the country, was determined to reduce the impact of AKI on its patients....
These case studies have been written for health and care professionals to increase understanding and aid learning.