Good hydration! Keeping care home residents happy and healthy
Share this on – Facebook / Twitter / Linked In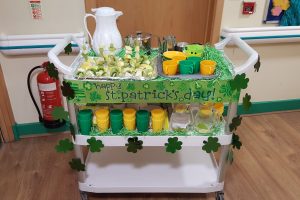 Katie Lean, Patient Safety Manager, Oxford Patient Safety Collaborative
This joint project with East Berkshire CCG was highlighted within the AKI Programme within Oxford Patient Safety Collaborative
Background
Fewer residents are suffering urinary tract infections (UTIs) following the introduction of a hydration programme in care homes. UTIs are closely associated with dehydration. The project was designed to encourage residents to drink more fluids with the aim that this would lead to fewer UTIs requiring medication or hospital admission. This approach involved introducing structured drinks rounds seven times a day, designed and delivered by care home staff. The initial focus was in four care homes which had higher than average UTI admission to hospital rates.
As a result the number of UTIs requiring hospital admission fell from 18 in 2015/16 to six in 2017/18 – – a 66% reduction. There were also fewer UTIs needing treatment with antibiotics within all four care homes.
The approach has now been extended to six more care homes in East Berkshire and three in Oxfordshire – making 13 in total. The good hydration project has won a number of national prizes including the 2018 HSJ Quality Improvement Initiative of the year, NICE Shared Learning Award 2018 and three in the 2017 PrescQIPP awards. A series of animated videos have been developed to spread the learning among care home staff.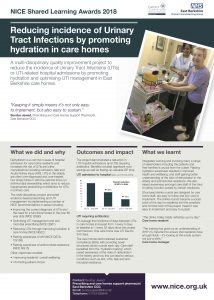 Aims, objectives and scope
Dehydration is one of the most common causes of admission to hospital for care home residents. One in four nursing home patients admitted to hospital is dehydrated. Dehydration increases the risk of urinary tract infections (UTIs) which can lead to multiple complications including confusion, falls, acute kidney injury and hospital admission. The Oxford Patient Safety Collaborative identified care home hydration as a key priority within its acute kidney injury programme. To address this it began building relationships initially with East Berkshire Clinical Commissioning Group and residential/nursing homes in their area. A pilot project was established in 2016 with four care homes in East Berkshire with a total of 150 residents. These homes had above average hospital admission rates for UTIs over the previous three years.
Method and approach
Hydration training was delivered to more than 220 care home staff who then designed and delivered structured drinks rounds seven times every day. The trolleys were bright, inviting and offered multiple options of drinks, cups and glasses. Staff used their imagination to create attractive themed trolleys, including Halloween, sporting events and the Royal wedding!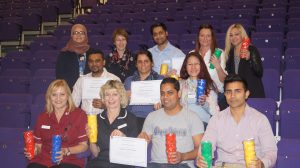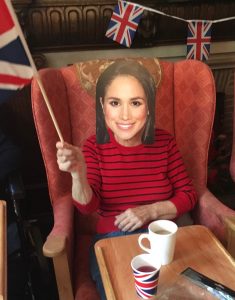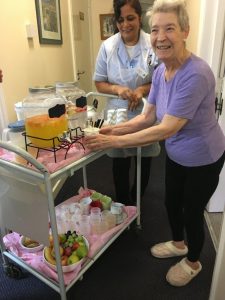 Measurement plan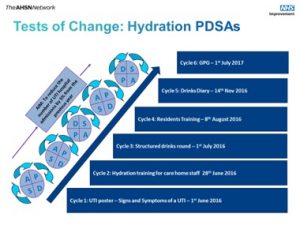 Find out more here
Results and evaluation
The initial target was to reduce UTI-related hospital admissions year-on-year by 5%. In reality the results were far more impressive. Across the four care homes there was a 33% reduction (from 18 cases in 2015/16 to 12 in 2016/17). The downward trend has been maintained with just six UTI-related hospital admissions in 2017/18. The number of UTIs requiring antibiotics also fell – from an average of one every nine days to one every 51 days. Skin integrity also improved and GP calls fell.
The four care homes also demonstrated sustained compliance of 99% with the commitment to provide seven structured drinks rounds each day. Qualitative data from a focus group of managers and staff indicated that residents were more alert and willing to participate in activities. One resident who had had recurrent UTIs every six weeks was UTI-free for ten months after getting actively involved in the project and recording their fluid intake in a diary. Their mobility and social interaction improved as a result too.
"The training has given us understanding of why it's important to ensure that residents have enough fluids – it's looking at the whole system, not just a drink."
Care Home Staff Member
"Keeping it simple means it's not only easy to implement, but also easy to sustain."
Sundus Jawad, Lead Medicines Optimisation Care Homes Pharmacist, East Berkshire Clinical Commissioning Group
Learning points
Always have a dedicated local authority or Clinical Commissioning Group link who knows the care home, works with them and who can support them, especially until this approach becomes routine practice.
Extra support is necessary in the first three months of the project.
It would be wise to include Healthwatch at the beginning of the project and also look at cross-boundary working including infection control, pharmacists etc.
Review guidance on UTI management locally in care home and GP services and implement good practice guidance.