Diane's story – recognition of the best kind of support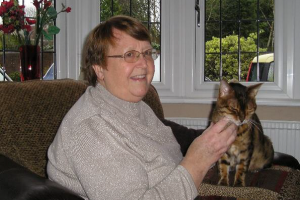 I'm Secretary of the Fresenius Patient Board and a couple of years ago they brought to our attention their programme for shared care. I was very interested because although I have never wanted to do home dialysis for a number of reasons, I did feel that I wanted to become more involved in my own care, so that I could learn to manage my own care, with the hope better outcomes.
The reasons I didn't want to do home dialysis were that for the sake of my family I didn't want to turn my home into a hospital, and I felt that always being at home to dialyse might mean I could become isolated and I have always felt that there is a social aspect to dialysing in a unit. I also didn't feel confident that dialysing at home was as safe as in the unit. Fresenius made it very clear that shared care was not about getting people to dialyse at home.
I line my machine and do all of the preparation including setting up my care and setting up the fluid that I will take off and putting on the acid, everything up to the point of putting in the needles. I have learned a lot about how to improve my treatment and I feel that my greater knowledge and understanding encourages me to talk to the doctors and nurses about my treatment. And so it has helped me to resolve some of the problems that I have encountered.
I changed units and the programme stalled a little, but one day our deputy manager, an excellent nurse called Linda Brown asked me if I had ever tried putting in the needles myself. I told her that I hadn't but that I would like to. There was no pressure to do this but she offered to teach me and let me try when she came back from her holiday. Unfortunately Linda died while she was away, at the young age of 54. But this will not discourage me because Linda taught me to overcome setbacks and push on to keep learning. Even if I find that I cannot do needling I will look at how to take myself off dialysis, and I will learn how to deal with alarms that occur on the machine. Doing this helps me feel more in control and that I am participating in my care."
Diane would like to dedicate her story to Linda Brown.
Diane is a long term kidney patient, member of the Programme Board and member of the Commissioning Workstream for Transforming Participation in CKD