Peter's story – A chance to give something back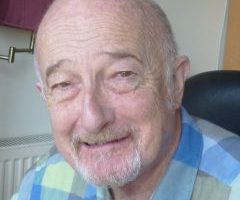 Peter is a Board Member, Patient Representative and member of the Measurement Workstream for Transforming Participation in Chronic Kidney Disease
I will start with a bit about my background. I initially trained to be a priest but instead went to work in areas of social care and social justice.  I was a workaholic. My working life included running housing associations for about ten years, medical research (mental health), setting up a large charity for residential care for older people  and running the Equal Opportunities Commission and (for a change) a large animal shelter. Alongside that, I was a Special Trustee at Great Ormond Street, a member of a government committee on welfare benefits, manager of under nines football teams, and chair of a number of local charities such as Homestart…as I said, a workaholic!
When I was 55 my wife and I decided to adopt and return to Derby, her home town. The training for this took a year and we were allocated two badly damaged children needing to be moved away from their home area in Bedford. Sue and I bought a house just outside the peak district, near schools, shops and playing fields. We were all set to meet them.
But in the November I was ill and the three GPs we called out said I had 'flu'. It was only when I turned yellow they referred me to the hospital with Acute Kidney Injury and septicaemia. I stayed six weeks in hospital – they said I was lucky to live.
So, no adoption, no family life, no going back to work.  Life came to a sudden and devastating stop. Our future, long planned, had gone, the landscape changed. Now there was bone weary fatigue for most of every day and, in the early days, frequent infections and visits to the hospital. For both of us, it was new and it was frightening. And it was "we" – both lives changed forever – the way we lived, our prospects, what we could do, how life felt. It is always as difficult for the carer as it is for the patient.
How did we cope?  Not well, when CAPD came I felt it wasn't the panacea we were promised, although I know others have had a more positive experience of it.  All I could do was sit for most of the day fatigued, dependent on others. I became suicidal and sought help. The support of family and the CAPD unit helped us through. But we adapted and came to terms.  CAPD and benefit allowances gave us the chance to get away in the caravan for periods of time with the dogs, make a new life. Then out of the blue, seven years ago, came a call for a transplant and the resurrection like experience of waking up and feeling I could get out of bed and run round the hospital grounds!
Since then I became involved with the renal registry, the AKI programme and other projects. A chance to give something back – a motivation that has been the mainspring of every other patient I have met. I hope joining the board of the TP-CKD programme will enable me to use my experiences to offer hope to others and improve care for people with kidney disease, to support patients to feel a part of their care and the decision making process and not overwhelmed or frightened.  Being involved in the registry has opened up a new world where I feel I contribute to improving knowledge, medical outcomes and the quality of life for people like me.