Shaila's story – Giving hope to fellow patients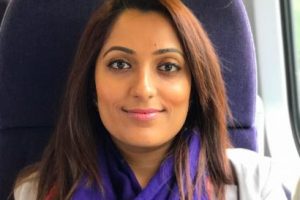 Shaila is an Independent Honorary Researcher in Health, specialising in areas of Long Term Health Conditions (LTC's), Sexual Health and Addictive Behaviours and a Board Member for Transforming Participation in Chronic Kidney Disease
My journey with Chronic Kidney Disease began 17 years ago with my first ever admission diagnosed as an acute kidney infection (pyelonephritis), and thereafter I experienced countless infections…I knew something wasn't quite right. I had scans and all sorts of tests only to find that my left kidney was barely functioning. This kidney was removed in January 2008, my right kidney in July 2014 and I started on Haemodialysis. Those 9 months were long, and it took a lot of endurance to get through them.
During my time on dialysis, I was supported by a few nurses with care and compassion. However, at times, some nurses would attach me to the machine and not be as vigilant as I anticipated. On one occasion, I was suffering low blood pressure and was trying to call out to a nurse but all were busy chatting away. I waved at the nursing station for attention. Luckily I was eventually noticed by one nurse who came to help me.
It's been tough to understand the conceptualised role of nurses within the dialysis unit, and their duty of care in times of need. Smiling and giving hope to fellow patients has always been something that I love doing. Through my own pain and suffering, I never once expressed how sad and hopeless I felt at times. I started coming in with things to do and using the time to knit, watch movies and read lots of books.
In March 2015, I was fortunate to have a call for a transplant. It has been a traumatic journey, throughout various operations. The ongoing immunosuppressants and bouts of infections are now subsequently a part of my life although this has not stopped me from fighting this disease. In effect, it has made me stronger, fighting through it and surviving chronic kidney disease (CKD).
I am proud to be a mother of two gorgeous boys, with a perceptive spark towards my academic career in research. As a health promotion graduate, I have been focusing on long-term conditions, particularly CKD, and I have an immense interest in promoting organ donation in the BAME community. My thesis focused on Kidney Failure Amongst Young South Asian Women of 25-30 years, their lived experiences, and identifying support available to them in terms of psycho-social needs as well as healthcare. I have had more than three articles published, one being in the Biomedical Scientist Journal titled 'Issues in Chronic Kidney Disease Terminology'. I was also the winner of the 'Promoting Healthy Living' award at the National Conference of the British Islamic Medical Association in March 2017.  Researching independently has given me the confidence to start my MSc in Medicine, Health and Public Policy at King's College London in September 2017. I will continue to write as this is what I enjoy most.
My perspectives about CKD are widely taken from the personal experiences I have encountered over time.  Managing my own health has been helped by the vast amount of reading I have done around this disease. I have discovered that being a renal patient takes a toll on life and never lets go. Having self-determination and being strict with myself was a key factor in self-managing, such as taking medicines on time, eating healthily, exercising and keeping to the CKDT nutritional regimen as well as drinking plenty of water to keep myself hydrated.
I have been actively involved in Barts Renal Forum and engaged in several meetings to help improve healthcare services for renal patients since 2010. My forthcoming plans will not only focus on patient care needs, but how important it is for carers and those that play a supporting role, to understand the profound implications of this disease.