Coding acute kidney injury in primary care, educating patients on stopping medication
Share this on – Facebook / Twitter / Linked In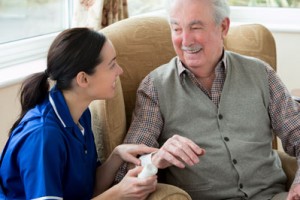 Mr W is a 75 year old man, with insulin dependent diabetes and atrial fibrillation. He is generally fit and well. In November 2013, the patient had an episode of diarrhoea at home, had continued to take all prescribed medications and insulin, and was admitted to A&E department. He remained an inpatient for four days.
Pre-admission:
BP 110/65
Urine:
creatinine- 63mmol/L.
Microalbumin 3.0mg/L
ACR Ratio 0.48g/mol4
Blood:
Creatinine 100, GFR 66
Medications:
Insulin Aspart
Insulin Glargine
Bisoprolol 5md
Losartan 50mg
Lisinopril 20mg/Hydrochlorothiazide 12.5mg
Simvastatin 40mg
Warfarin: Take as directed on anticoagulant card
History: Admission via A&E with diarrhoea likely secondary to gastroenteritis. Also, had low BMs and feeling generally unwell.
On admission:
Creatinine 178
GFR-34
Treatment: Acute kidney injury was noted on bloods. Kidney function improved with IV fluids, diarrhoea settled, good urine output, eating and drinking well. Patient discharged feeling well with significant improvement in renal function
Outcome: Home. GP to monitor renal function in three days to ensure back to baseline. Renal profile was rechecked two days after discharge and was creatinine 106 eGFR 62
Mr W attended the surgery in May 2014 for his annual diabetic and atrial fibrillation reviews. During the review Mr W told the practice nurse about his previous hospital admission and how quickly he had become quite poorly.
The practice nurse looked at the attached letters and learnt that this had been an episode of acute kidney injury. No entry had been made on the patient's records of acute kidney injury. The practice nurse discussed with the patient that in the event of an acute illness in the future, he should contact the surgery and speak to a GP or to seek medical advice. She gave Mr W advice about temporary cessation of medication.
Who would the learning opportunities be relevant to?
Health professionals in primary care
Hospital teams
Key Learning Opportunities
To be discussed at practice meeting, coding needs to be improved at the practice for patients who have experienced an episode of acute kidney.
The practice needs to improve the education given to patients in the event of acute illness at home.
Alerts/prompts need to be added to patient's computer records/prescriptions.
Need for review of medication in terms of prescribing of both Lisinopril and losartan in light of draft guidance not to offer a combination of renin-angiotensin system antagonists (to people with CKD).
Coding on discharge summaries to GPs.
From which Clinical Perspective?