At risk in a care home
Share this on – Facebook / Twitter / Linked In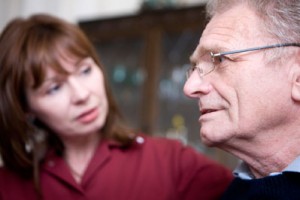 Mr T is 85 year old who lives in a nursing home.
He has a past medical history of stroke leading to dysphasia and dysphagia and is therefore PEG fed and has a long term indwelling urinary catheter. He is at high risk of infections due to confusion and subsequent trauma to catheter. He is not considered suitable for supra pubic by urology.
Medication: clopidogrel 75mg daily, paracetamol prn and senna Premorbid levels: eGFR 66 creatinine 95umol/l
Mr T Developed acute illness with vomiting overnight. He was seen by the GP following morning. There was no further vomiting that morning, he was apyrexial, and his catheter was flowing clear. The plan was to retry PEG feed and review.
Mr T deteriorated rapidly during the day and a late visit was requested as he was vomiting and appeared distressed. On arrival the GP saw Mr T was obviously unwell with a tense tender abdomen and black offensive vomit, which was considered to be potentially faecal, and so he was at risk of obstruction. Immediate transfer to hospital was arranged.
A phone call from admitting surgical team informed the GP that Mr T's serum creatinine was 200 eGFR 28, with no abdominal obstruction but urosepsis and acute kidney injury.
Mr T was treated with catheter change, IV aztronam. He was rehydrated and restarted on PEG feeds two days later. He was discharged back to the care home where his GP undertook a care plan review to prevent further admission:
The care plan for Mr T
The hospital did not get sensitivities for urosepsis, so CSU arranged
Prophylactic antibiotics for each catheter change organised as per antibiotic protocol
Discussion with nurses and family regarding rapid change in health status and warning signs regarding catheter flow. If clinical deterioration nurses will empty catheter and then monitor hourly flow rate.
Increase in clear fluid via PEG on daily basis. Clear instructions regarding clear fluid flush if not tolerating feed.
Referral to community catheter team for support for the care home nurses.
Who would the learning opportunities be relevant to?
Key Learning Opportunities
Use of the enhanced service high risk of admission care planning tool
From which Clinical Perspective?