Yorkshire and Humber is one of nine official regions of England. It comprises mostly of Yorkshire, Hull, North and East Lincolnshire. The largest cities are Leeds, Sheffield, Bradford, Huddersfield, and York.
Regional Structure
Click here for more information on the regional structure.
National Project
Through discussion with the regional lead and clinical directors, the region are working on MAGIC as their main quality improvement (QI) project.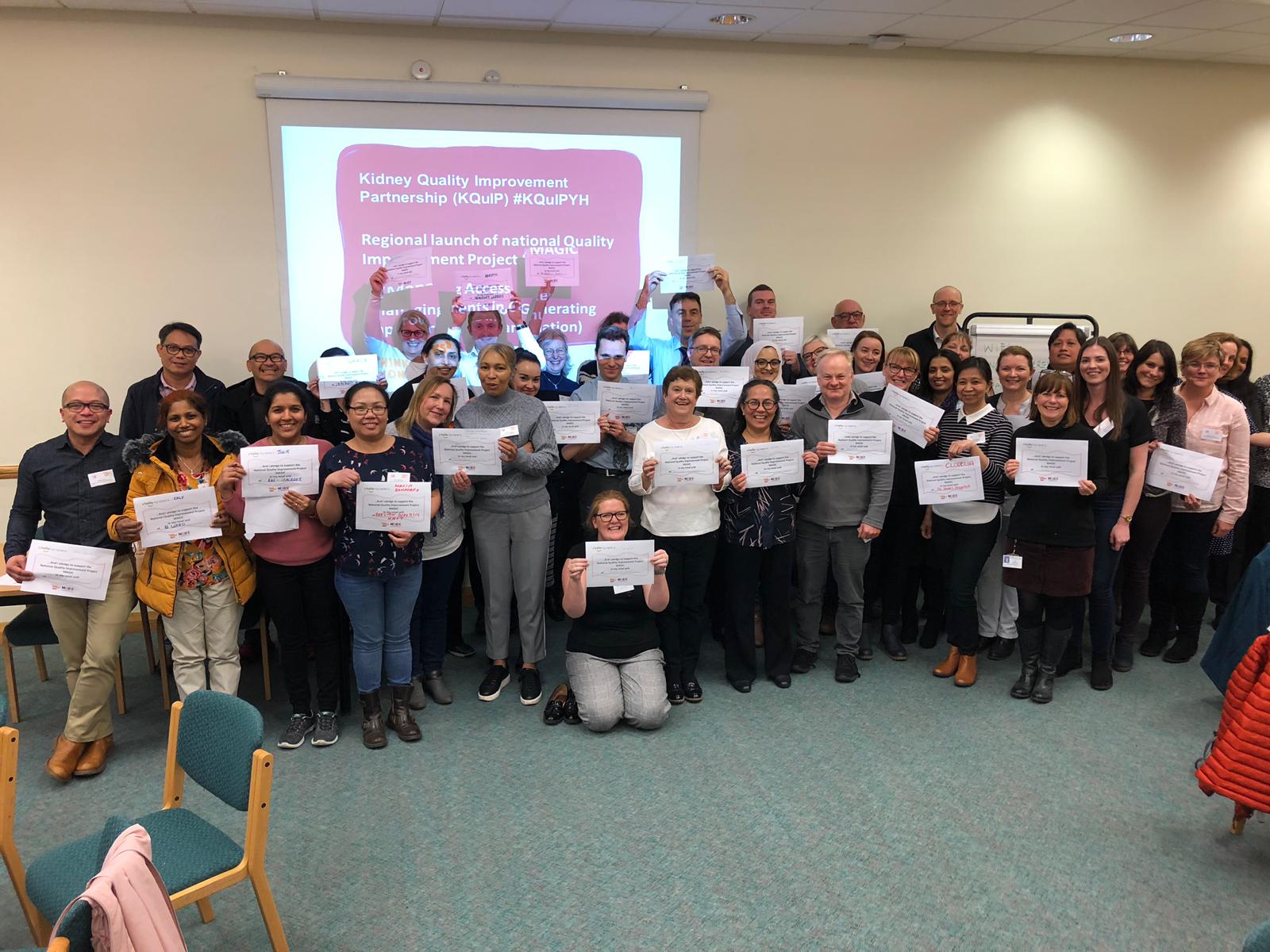 The KQuIP delivery plan is a simple framework where quality improvement capability  is developed and delivered in collaboration with renal unit QI leads and KQuIP's development work stream.
Events
Celebration Event – Date to be confirmed
The QI leads came together for a full day of sharing and learning, whilst learning new QI tools and skills. The aims of the day were:
To share and learn form each other about improvements made to vascular access cannulation
To receive QI skills and tools from experts
To move into next phase of MAGIC
Plan for celebration event in March
Click on the links for more information:
Next Steps
Date, time and venue to be agreed for celebration event
KQuIP to design an invitation and circulate once  above agreed.
Units to present their successes using QI tools during the celebration event.
KQuIP to arrange a follow up visit with each unit in January
14th August 2019 – Quality Improvement Training Day Two
The QI leads and their project teams came together for another full day of gaining new skills/ tools for quality improvement. The aims of the day were:
To facilitate informal sharing and learning of dialysis cannulation from each other's units
To cross pollinate knowledge and improvement ideas
To apply proposed QI tools to their MAGIC project
Click on the links below for further information about the day
Next Steps
Teams will produce a driver diagram in preparation to share for Training Day 3
Teams will implement their PDSA cycles back on their unit and will feed their measurement for improvement during Training day 3
KQuIP team are planning monthly visits to each of the four units involved, providing QI and project support to the leads and their teams
Training Day three, 11th December 2019, when the focus will be to maintain momentum.
9th April 2019 – Quality Improvement Training Day One
The QI leads from the region came together with their project QI teams to learn new/ develop existing QI skills and tools. The focus of the day was 'How to set up a project' and 'Baseline your service' with a MAGIC update from Katie Fielding.
12th March – 2019 MAGIC Launch day
QI leads form each of the units were asked to invite their stakeholders, peers, patients from inside and outside their organisation to attend the launch of MAGIC within the region. The regional lead, Ian Stott, chaired the day. 42 people from within the renal community attended and listened to patient experiences, nurse's experiences and vascular surgeon experiences of needling.
After the coffee break, the attendees were asked to attend a world café session; 4 tables with 4 topics, they could attend whatever topic they wanted to but had to visit all four tables. This generated great discussion and sharing of information within the tables.
The day ended with everyone pledging to support the quality improvement project MAGIC within their unit.
February 2019 – Leadership Programme
The Yorkshire and Humber QI leaders will complete the Leadership Programme in February 2019, by participating in a two day Renal Shortsmoor Leadership Training and one day Leadership into Action:
These two days provide the quality improvement leads with a good understanding of effective leadership, and the opportunity for greater self-awareness, in order to lay sound foundations for continuous improvement as a leader.
24th and 25th January – Shortsmoor Renal Leadership Training
QI leads from each unit were invited to attend a two day leadership course. To view the programme click the link
5th February 2019 – Leadership into Action
QI leads from each unit were invited to attend a day where they could apply their leadership skills in developing a regional launch day for their chosen QI project MAGIC. Through discussions, the QI leads formed a closed WhatsApp group to allow quick discussion and decision making.
13th November 2018 – Are You Ready for Change Workshop
Unit QI leads were invited to a two workshop to complete a self-assessment questionnaire – Are you ready for Change.  They were asked to complete first individually and then as a unit. Completing this allowed opportunity for sharing scores and ideas for preparing them for their chosen QI project.
6th July 2017 – The KQuIP/ UKRR Yorkshire and Humber Regional Day
The KQuIP/UKRR Yorkshire and Humber Regional day held at the National Coal Mining Museum on the 6 July 2017, brought together the Yorkshire and Humber renal community, including a broad range of medical, multi-disciplinary colleagues and patients to consider and discuss data provided by the UK Renal Registry, Public Health England and NHSBT.
The day was led by John Stoves, (Regional Lead) and Louise Wells (KQuIP Co-Chair) and provided an opportunity to review national and local data and explore the regions involvement in the three KQuIP national priority projects. The day was an opportunity to share improvement successes and plan further collaborative Quality Improvement projects across the region.
To view the full agenda including details of each session, speakers and time slots please click here
Please see below the presentations from the day:
Session A – 9.30am-12.45pm
Session B – 1.30pm-5.30pm
Session C – 6.15pm-9.30pm
Break out sessions:
In addition, the day focused on the following key areas and next steps:
Know your outcomes-using available data
Decide on your unit priorities for QI based on this data
Feel supported to embed QI in your practice
Identify your QI leads
Know where to turn to for further support
The Summary Report of the day including the questions, answers, detailed feedback from the session and next steps for the QI projects can be found here.